About Aqua Pilates
Benefits of Peyow
™

Aqua Pilates
Breath & Posture

 correct alignment and breathing releases tension, and increases lung capacity

Stability & Balance

 learn to balance against water's forces in a safe environment, for fall prevention

Flexibility

 increase range of motion with Pilates stretches. Men can specifically benefit in this area with the buoyancy assisted stretches.

Core Strength

 all exercises are core-centric (originating from the center or core of the body) and strengthen muscles of the spine, pelvis, hips and abdominals, also known as the "powerhouse".

Recuperate

from injury or post-rehab.

Low impact

 the spine and joints are unloaded in the water, making movements non-compressive

All levels

of fitness, the intensity is individual. Suitable for special conditions such as Arthritis, Parkinson's, Fibromyalgia, Stroke, Cardiac, Obesity, and PTSD.

Case Studies

 show effectiveness in increasing dynamic stability and core strength within participants with disabilities.
Going With the Flow – The Fusion Workout
Joseph Pilates original principals and exercises are adapted for the water. "" (pee-yow') is the Chinese Mandarin word for float, "Floating Pilates." Anne Pringle Burnell, creator of the Peyow™ Aqua Pilates program produced the Peyow™ Aqua Pilates 85-minute DVD, and the Manual for instructors and therapists.
The Peyow™ Aqua Pilates DVD, for both fitness enthusiasts and teachers, features the full program with postural and exercise instruction throughout, different modifications for all levels, and a laminated fold-out of the workout basics to take to the pool. Peyow™ Aqua Pilates was featured in Chicago and Chicago Health & Beauty as one of the best new fusion workouts of 2005. Original music in the is also available on CD.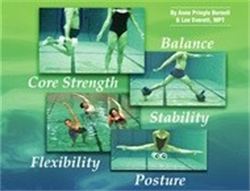 The Peyow™ Aqua Pilates workout facilitates increased flexibility while challenging the individual to maintain core stabilization, balance, and postural alignment in the healing environment of water. Pilates enthusiasts who practice traditional Pilates may want to add the element of water for a greater challenge to stability. It is a great alternative for those who have limitations in the Pilates mat workout, which is gravity based (body weight) or do not have access to the resistance machines of traditional Pilates. Beginning Pilates students, especially those who love aquatics, could benefit greatly from adding some of these core strengthening and stretching exercises to their routine.
Peyow™ Aqua Pilates was developed at the 5 Star Peninsula Hotel Chicago by Anne Pringle and is accredited continuing education for Aquatic Therapy & Rehab Institute, Aquatic Exercise Association, American Council on Exercise, Aerobics & Fitness Association of America. She also developed the Stronger Seniors™ Workout Program.
Research Case Study: Changes in Dynamic Balance within
Participants with Physical Disabilities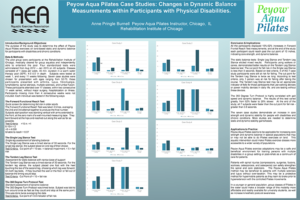 Biographies
Anne Pringle Burnell created and developed the Peyow™ Aqua Pilates program which premiered at the Peninsula Spa Chicago in 2001. She is Certified by the American Council on Exercise, Aquatics Exercise Association, AquaStretch™, Aerobics & Fitness Association of America, and Stott Pilates™. Anne has been a featured presenter at international conferences including: American Cancer Society, The American Lung Association, Susan B. Komen Breast Cancer Foundation, National Council on Aging/American Society on Aging Joint Conference, Northwestern Memorial Integrative Medicine Women's Health Conference, International Aquatic Fitness Conference, SCW Midwest Mania, and the International Aquatic Therapy & Rehab Institute Symposium.  She is a faculty/educational provider for ATRI, AEA, AFAA, NASM, ACE, AF, AquaStretch™ and Stott Pilates™ .  She developed the Stronger Seniors™ Workout Program for older adults and people with disabilities, injuries, or chronic conditions.  Anne instructs classes at Galter Life Center/Swedish Covenant Hospital, Northwestern Memorial Hospital, Peninsula Chicago, University of Illinois Chicago, private clients, and Stott Pilates™ Certification courses. 
Lee Everett She holds a Masters Degree in physical therapy from Northwestern University and a Masters Degree in Exercise Physiology from Northeastern Illinois University. Lee has been working in the fitness industry teaching group exercise classes for over 20 years.  Ms. Everett began her training in Pilates informally while working at the Rehabilitation Institute of Chicago. There she worked with other Pilates trained physical therapists rehabilitating patients in the performing arts and chronic pain programs. Lee is certified by Stott™ Pilates and is a Stott Pilates™ instructor trainer. Lee teaches Pilates classes, and conducts private sessions at her own studio, Healthy Motion, in Wheaton, Illinois. In 2005, she joined Anne to collaborate on the Peyow™ Aqua Pilates instructor manual. Lee was a presenter at the National Council on Aging/American Council on Aging Joint conference.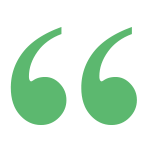 Strong people find their weaknesses, weak people find their strengths. All are able to succeed and find challenges at varying levels.