About Aqua Pilates

Benefits of Peyow
™

Aqua Pilates
Breath & Posture

 correct alignment and breathing releases tension, and increases lung capacity

Stability & Balance

 learn to balance against water's forces in a safe environment, for fall prevention

Flexibility

 increase range of motion with Pilates stretches. Men can specifically benefit in this area with the buoyancy assisted stretches.

Core Strength

 all exercises are core-centric (originating from the center or core of the body) and strengthen muscles of the spine, pelvis, hips and abdominals, also known as the "powerhouse".

Recuperate

from injury or post-rehab.

Low impact

 the spine and joints are unloaded in the water, making movements non-compressive

All levels

of fitness, the intensity is individual. Suitable for special conditions such as Arthritis, Parkinson's, Fibromyalgia, Stroke, Cardiac, Obesity, and PTSD.

Case Studies

 show effectiveness in increasing dynamic stability and core strength within participants with disabilities.
Joseph Pilates original principals and exercises are adapted for the water. "" (pee-yow') is the Chinese Mandarin word for float, "Floating Pilates." Anne Pringle Burnell, creator of the Peyow™ Aqua Pilates program is accredited education for both physical therapy and fitness. The pilot study was performed at the Rehab Institute of Chicago (now the Shirley Ryan Ability Lab), and published May 2015 at the International Aquatic Fitness Conference. Peyow Aqua Pilates is core-centric facilitating increased flexibility while challenging the individual to maintain core stabilization, balance, and postural alignment in the healing environment of water. Peyow™ Aqua Pilates originated at the 5 Star Peninsula Hotel Chicago. Peyow™ Aqua Pilates is shown to be a great alternative for those who have limitations in the land-based Pilates mat classes or Pilates resistance equipment and Pilates enthusiasts may want to add the element of water to greater challenge stability and core recruitment.
Research Case Study: Changes in Dynamic Balance within Participants with Physical Disabilities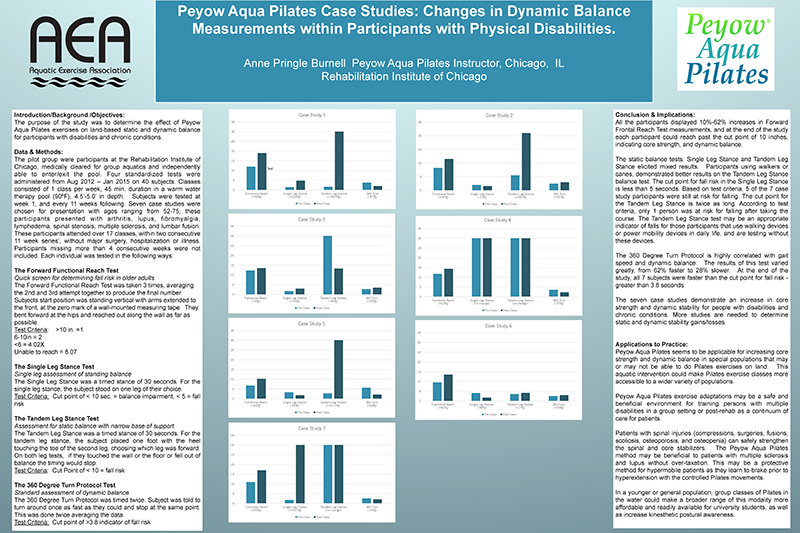 More Corecentric Aquatic Programs
Peyow Funktional Barre
Peyow™ FunKtional Barre is an aquatic barre program using the noodle as the barre including techniques from dance, Pilates, functional fitness and sports conditioning to strengthen the lower extremities, and stabilize the torso. Combining stretches on the barre, footwork, and plyometrics, the lower extremities can be conditioned for agility, flexibility and power. FunKtional Barre incorporates the mind/body component of breath with movement and dynamic stretches.
StretchTension: Aquatic Suspension
Suspension exercise has been a way for athletes to train when away from a gym, most notably TRX developer Randy Hetrick, former Navy Seal Commander. StretchTension translates traditional suspension exercises to the aquatic environment using bungee cords. Developed by aquatic specialist Anne Pringle Burnell, this type of aquatic suspension training activates the core, builds strength and mobility without joint load, increases performance, and improves balance recovery.
Peyow Plank Challenges
An advanced strength workout done on a diagonal line with front, side and reverse planks. Understand the muscles supporting the different plank positions and how to modify exercises. Add these plank ideas to any class to intensify strength work and challenge core stability!
Peyow Timed Intervals
Alternating high intensity Cardio/Strength with relaxing stretches in bouts of 2, 4 and 6 minute patterns called the Fartlek method. Fat-burning, muscle conditioning, and flexibility all in one.
Peyow Water Ballet Stretches
Aquatic Barré with a noodle. Improves flexibility in the legs, hips and spinal column. Includes balance and alignment training and Pilates Trapeze/Cadillac exercises.